The European Capital Makets Institute held its annual conference from 30 November to 7 December. Spread over 3 sessions and three different days: 30 November, 2 and 7 December.
Blockchain Intelligence, led by its founder, Almudena de la Mata, participated on 7 December in the panel on Crypto-assets: Investors Beware. This session analysed the interaction of MiCA with other existing and proposed rules (e.g. digital identity and privacy, e-commerce and digital markets and services, anti-money laundering, crowdfunding) and how European supervisors will address these new tasks.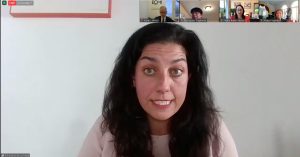 The panel also included:
Nobuyasu Sugimoto , senior financial expert, IMF.
Julapa Jagtiani , Senior Special Advisor, Philadelphia Fed
Teana Baker-Taylor , Director of Policy, Chamber of Commerce for Digital Commerce
De la Mata said during his participation that "some of the main challenges in regulating cryptoassets are the international nature of the cryptocurrency world, that innovation happens very quickly to catch up and that it is very technical and regulators often miss that expertise".