On December 14, the Government of Navarra and the Social Innovation Unit (UiS) organized a conference on "Digital Transformation in the Rural Environment" at the Lekaroz campus of the University.
In it, a group of experts, including Almudena de la Mata, CEO of Blockchain Intelligence, met to discuss the need to digitize public services. During her speech, the founder wanted to explain how Blockchain is a pioneering technology as was the Internet in the 90's. "It allows us to digitally generate something as important as trust, trust in the exchange of value, in the digital environment, in the network" she explained.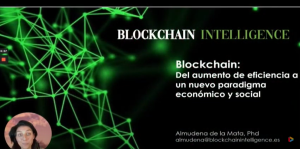 The event, which was recorded on video, can be viewed on youtube by clicking on the following link: https://www.youtube.com/watch?v=ihtycW8YMeM. Almudena de la mata's intervention can be seen from minute 2:03:33 onwards.