Madrid, April 28th, 2022 – Yesterday the agreement of constitution of the Blockchain Cluster of the Community of Madrid was signed. BLOCKCHAIN INTELLIGENCE together with 22 organisations co-found this first Cluster that will be launched in the region to consolidate Madrid as a digital hub in Southern Europe. Blockchain Intelligence is joined by Accenture, Banco Santander, BBVA, Bizum, Addalia Technology, Metrovacesa S.A., Sci The World, Sunte Solutions and Usyncro. Thales Alenia Space, Universidad Autónoma de Madrid, IMDEA Software, IMDEA Networks, Fundación madri+d, Madrid Digital, S2, J&A Garrigues, PricewaterhouseCoopers, Blockchain Intelligence, Omega Peripherals, Alastria and CEIM are also participating.
"BLOCKCHAIN INTELLIGENCE represents tech SMEs as well as the legal-regulatory environment through its Blockchain Intelligence Law Institute" said Almudena de la Mata, CEO of Blockchain Intelligence. "We are the first Blockchain Technology training centre in Spain and Latin America and the first Think & Action Tank" notes de la Mata adding "our experience in project development and consultancy helps us in the generation of applied knowledge focused on SMEs". "In Europe we focus our activity on international expansion, business and regulatory development as well as projects focused on sustainability. We are part of the European Blockchain Observatory and Forum and INATBA" continues de la Mata.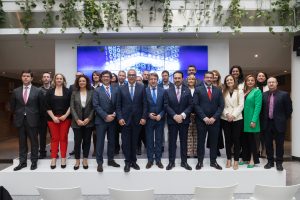 he Regional Minister for Local Administration and Digitalisation, Carlos Izquierdo, said "This agreement will make Madrid the nerve centre for connecting nodes of this technology between the American continent and Europe", said Izquierdo, who also described the main functions that the Tres Cantos centre will have, including carrying out research, studies, analysis and projects on blockchain, as well as promoting its knowledge and use by society, in addition to promoting the establishment and adoption of digital identity models.
"From the regional government we promote public-private collaboration in all areas and we defend and support entrepreneurs who create jobs, wealth and prosperity, whose work has been especially difficult during the pandemic", emphasised Izquierdo, and then recalled that the region accounts for a third of all Information and Communication Technology companies in the country and 64% of all investment in the sector.
Collaboration between Blockchain Intelligence and the public administration has been a core activity of the centre, which has participated in the development of strategic studies and training in the sector.
Noticias de prensa relacionadas:
Nace el Clúster Blockchain de la  Comunidad de Madrid con la participación de 22 organizaciones – BeInCrypto