Dr. Almudena de la Mata Muñoz
CEO of Blockchain Intelligence and Blockchain Intelligence Law Institute.
Corresponding Academician of the Royal Academy of Jurisprudence and Legislation.
Director of Legal Expert and Compliance Certifications in Blockchain, Crypto Assets and Metaverses
The journal of AEAEC Nº 14: January 2023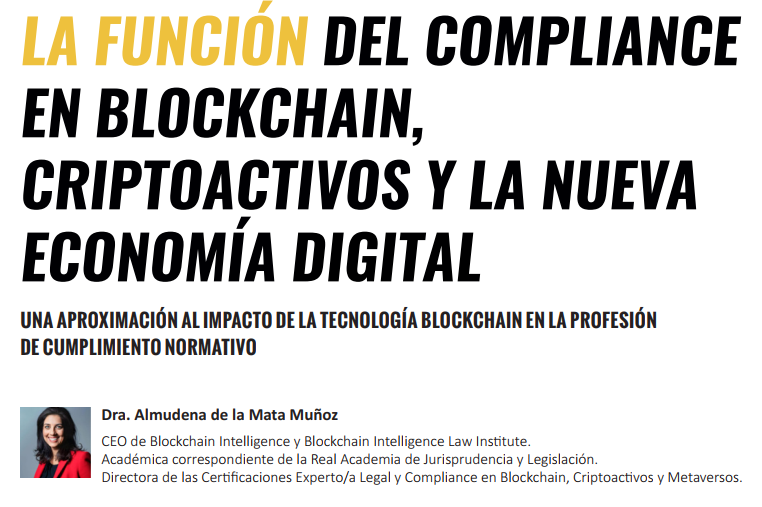 1. BLOCKCHAIN & COMPLIANCE TODAY
1.1. The dual impact of Blockchain on the compliance function
The compliance function is being strongly affected by Blockchain technology. This impact is manifested in two very different ways. On the one hand, Blockchain has created new economic and social operations and generated new digital assets (crypto assets, cryptocurrencies, NFTs, etc.) and new contracting spaces such as metaverses, which must comply with the applicable regulations and be subject to control by compliance units.
On the other hand, Blockchain offers very valuable tools for exercising the compliance function itself. It is an optimal technology for reliable management of records and databases and improving the traceability and auditability of actions and processes that help to identify non-compliance and define responsibilities. Blockchain also enables the development of multiparty processes based on decentralised trust and the automation of processes via smart contracts and tokenisation. In this way, the involvement of various business units in compliance processes is encouraged.
In addition, this technology enables the creation of incentives to encourage internal compliance with regulations, internal policies and whistle blowing through tokenisation systems.